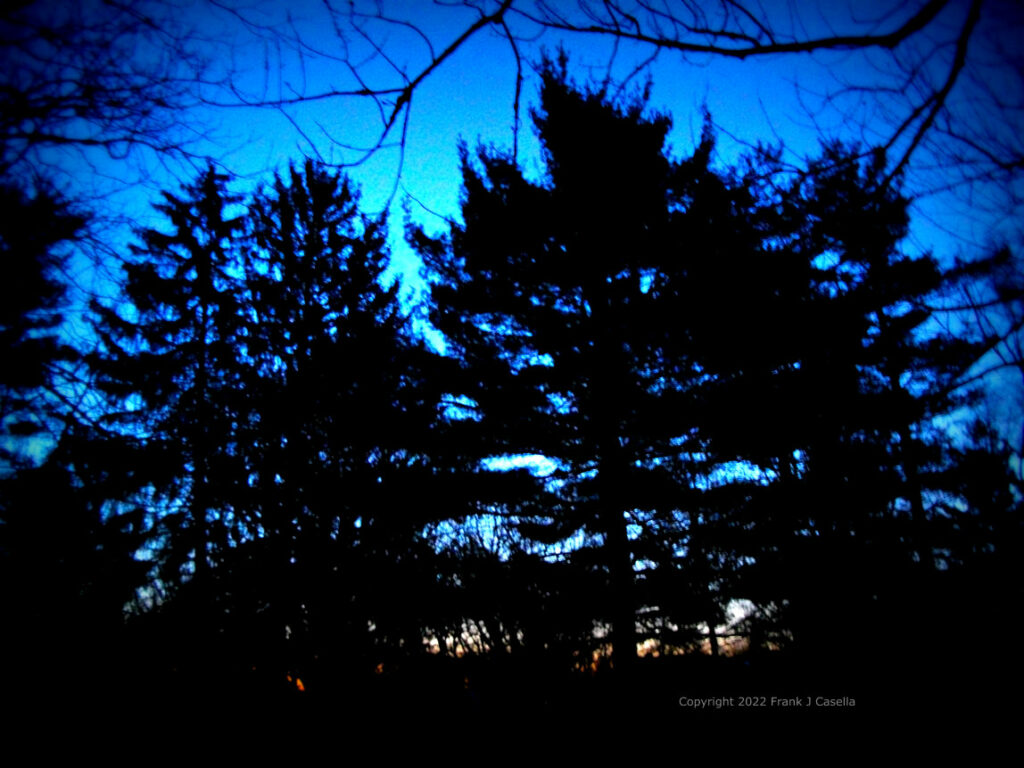 With this latest photograph Morning Blue Hour Abstract – Pine tree silhouettes illuminated by the blue hour sunrise in the America Midwest of Illinois. The Blue Hour is at twilight, when the Sun is quite far below the horizon, coloring the sky deep blue. As for abstract, its definition is just as subjective as its name implies.
Abstract images are conceived or imagined outside of 'reality'. They can encompass a huge variety of subject matter, take us out of our comfort zone, make us question what we see, or invite us to enter another realm.
If you look, then, you will see less abstract works in my own artwork than you may find other subjects. This is because when I create an abstract work it is not the original intention, rather later on the work lends itself to being a tweak away from reality.
I share my art photography on the Vivaldi blog platform, as well as on MeWe social network: Vivaldi has better privacy and security, and a focus on being visual with image properties and is a great tool to publish and share your ideas; MeWe has a Privacy Bill of Rights like no other, plus there are many groups and features (like a personal cloud and photostream) on MeWe that are designed for photography.
But more about abstract and my artwork. A true definition, that I learned in college, for abstract photography, sometimes called non-objective, experimental or conceptual photography, is a means of depicting a visual image that does not have an immediate association with the object world and that has been created through the use of photographic equipment, processes or materials.
I am mostly a person of reality, as those who know me best will tell you. Though I do have a great appreciation for people who are abstract thinkers, as much as I do for abstract artworks.
I hope that what I have said inspires you to discover abstract art photography, and the thoughtfulness that it evokes for yourself.